With Betternet on Android, we have current features that can help with increasing your privacy and security when using the VPN. Please take a look at each one below: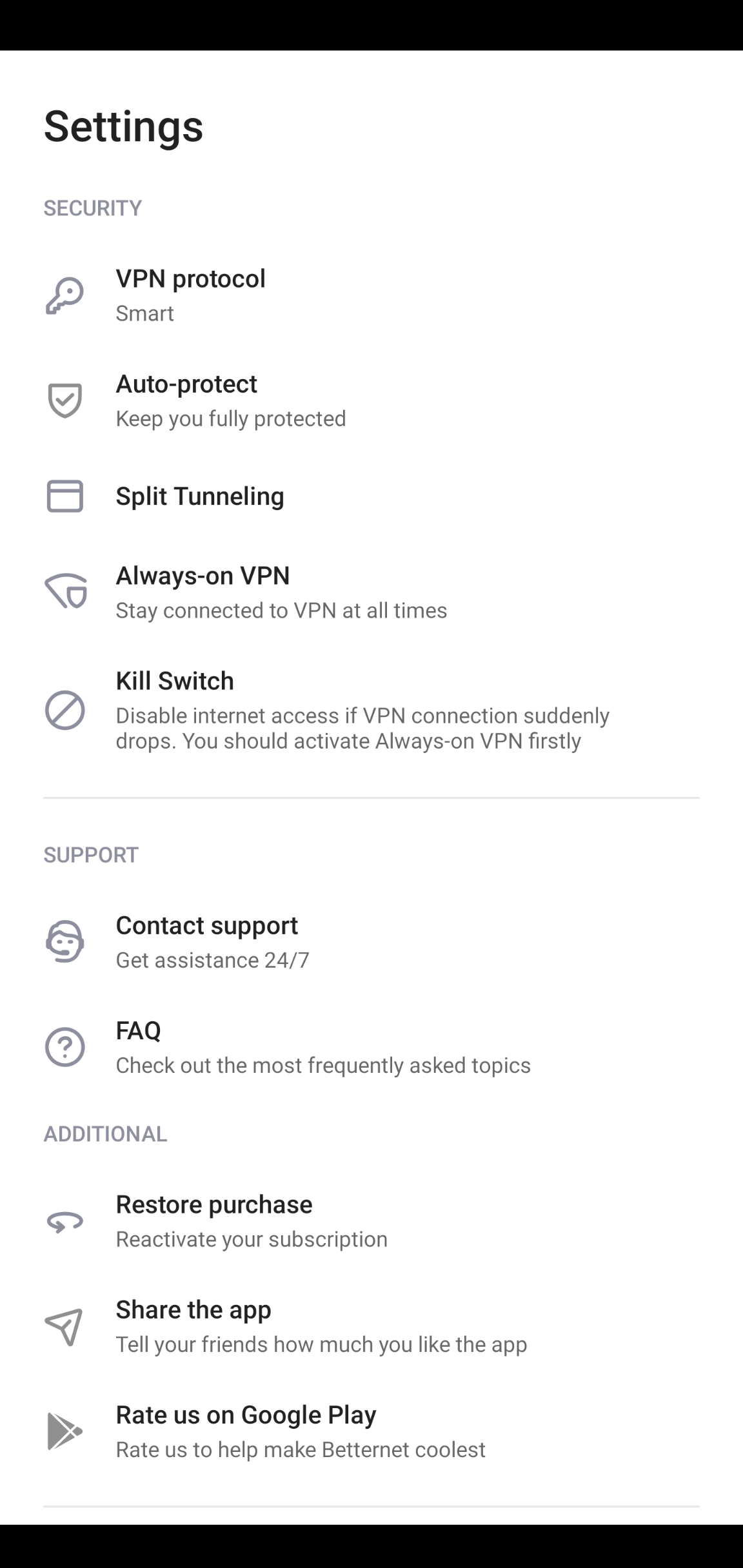 VPN Protocol
Smart
This is automatically turned on when you connect to a virtual location. When this protocol is selected, we will pick the fastest and most secure protocol to connect to for your network or area.
Hydra
This is our company-developed protocol. It only can be found with us. This unique protocol is the fastest in the VPN industry and faster than our other protocols. It is the most secure of our protocols, so whenever you have a technical problem, please try changing to Hydra.
Wireguard
This protocol has been designed for ease of use. While it is not entirely recommended, it is a faster protocol with a lower chance of it being compromised compared to other protocols.
Auto-Protect
Activate this setting to have an auto-connection to Betternet to protect you fully. This will eliminate the need to connect and disconnect the VPN manually.
Always-on VPN
This will auto-connect to Betternet on the device startup.
Kill Switch
If Betternet suddenly disconnects, enabling this feature will stop the data flow, protecting you by not allowing the internet traffic to run in the background once the VPN disconnects.
Split-Tunneling
Betternet on Android has a Bypass feature that can bypass specific websites. Once you manually add a site to this feature, the VPN will automatically connect to that app once it has been opened. To add an app or site, click the check mark next to bypass and click the add option.
You can also Route VPN access which will exclusively connect to the VPN always when the VPN is on. You can add apps to this feature by toggling it on via the check box, and clicking add next.
To disconnect the VPN once you have closed that site, you will need to go back into the UltraVPN application and disconnect it manually for both Bypass VPN and Route VPN.